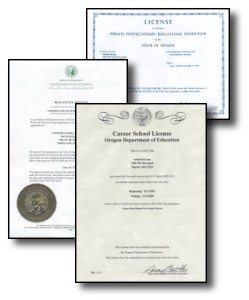 About OnlineEd
Teaching Online Since 1998!
OnlineEd, LLC. is a licensed real estate school and insurance school headquartered in Portland, Oregon and has been offering courses over the Internet since 1998.
All of our teaching and instruction is done via the Internet and through our unique course management system. We do not retail or repackage courses created by other vendors. We write and publish our own course material for an exclusive online experience. You won't find courses offered by OnlineEd anywhere else on the web! All course materials are written by knowledgeable, experienced industry professionals and instructors.
NMLS
Approved Course Provider
#1400327
Approved NMLS Course Provider
OnlineEd has been an approved NMLS course provider of continuing education since 2009 (NMLS #1400327). Our mortgage continuing education classes have been sold nationwide every year since.
Our Mission Statement
To provide superior distance education that exceeds industry standards and expectations in course content and delivery methods to those who seek to enter a new profession and those engaged in a profession.
Please View Our Credentials!
Contact Information
Administrative office hours are 9:00 AM to 5:00 PM Pacific Time, Monday through Friday. After-hours sales and support is often available.
(503) 670-9278
1-866-519-9597
OnlineEd, LLC.
14355 SW ALLEN BLVD STE 240
BEAVERTON OR 97005-4700